Malta-Sicily-Tunisia
July 9th - Aug 9th, 2010
Download a PDF version of our brochure!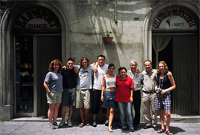 Students will learn the basics of black-and-white and colour photography in the beautiful Mediterranean country of Malta. Located between Italy and North Africa, this former British colony has an enviable reputation as the safest country in all of Europe. Its inhabitants speak English as well as the native Malti. It is well-known for its archaeological treasures, several of which pre-date the Pyramids and Stonehenge, as well as its stunning rocky coastline.

From our base in the capital of Valletta we will explore the history, culture, and landscapes of the area as well as neighbouring Sicily and Tunisia. Classroom instruction is provided, but the emphasis is on learning by doing. Professional photographers will provide individual instruction in the field and in the darkroom to maximize each student's learning experience.

Various activities are planned to enjoy the area's rich cultural traditions and exotic geography:
trips to art galleries, museums, theatres, palaces, and village festas.

swimming, boat cruises, a camel safari, camping, and short bicycle
tours.
Field Trip Highlights
Malta

Valletta, the renaissance capital city, is our main base for exploration of this fascinating country. We'll visit the Palace of the Knights of Malta, St John's Co-Cathedral, the underground burial site of Hypogeum, St. Paul's Catacombs, and of course the miles of sunny beaches and interesting shops.

Sicily



Agrigento, with the extensive ruins of The Valley of Temples, a complex of 5 Greek temples dating back to the 5th century BC.
Siracusa, with picturesque 1st-century BC ruins of the once-great city. The nearby island of Ortyga, a medieval settlement that includes the 16 000-seat Teatro Greco, and the impressive Parco Archeologico.
Novara di Sicilia, a mountain village where we will be based for day trips in the area.

Tunisia



El Jem, whose 2nd-century BC coliseum is the best preserved in the world, only slightly smaller than its famous cousin in Rome.
Kairouan, Tunisia's holy city, is a feast for the eyes-the whole city has been declared a UNESCO site. Mosques and souks predominate in this busy and colourful city.
Gabes, where we overnight on our way to...
Matmata, home of cave-dwelling people and the filming site of the Star Wars movies. We will stay at "Luke Skywalker's house".
Tataouine, which is not a planet but a city and ancient berber stronghold, recently featured in The Phantom Menace.
Ksar Ghilane, where we'll be based for an overnight camel safari into the Sahara desert of North Africa.
Staff
Heading up our photographic staff is David Trattles, a seasoned professional photographer whose work has been published in Canadian Geographic, the Canada Year Book, and MacLean's, to name a few. Dave's work has taken him and his bicycle through over forty countries. This is his seventh year of teaching photography in Malta, Sicily and Tunisia.

Dave is joined by Dr. Ken Clarke and Leora Starkey. Both seasoned travellers will add their expertise to the program. In addition to accompanying the students, Ken is a key administrator while Leora Starkey will assist with the photography. Leora is a University of Ottawa Photography graduate who has operated her own studio and freelanced for the past few years. Her studio and digital experience add an advanced component to our curriculum.
Included in the $5950.00 CDN cost of the trip:
All organized field trips, including ferries, flights, etc.
All accommodations
75 hours of instruction, including darkroom and computer time (students will have email access)
All breakfasts and dinners in Sicily and Tunisia, and some gelato stops.
Students are responsible only for these costs:
Travel to and from Malta
Meals daily (lunch only on the Tunisia and Sicily trips)
Photographic film and paper, and processing of slides in Malta ($13/roll)
Spending money
If there is a piece of information you're still looking for, check out our Frequently Asked Questions or contact us.